The Lexus RX is a luxury crossover SUV sold by Lexus since 1998. The RX series has comprised multiple V6 and hybrid-powered models (such as the RX 300, RX 330, RX 350, RX 400h, and RX 450h), in either front-wheel drive or all-wheel drive versions. Three generations of the Lexus RX have been produced to date, in compact or mid-size form. The Lexus RX has been the best-selling luxury SUV on the US market since its introduction and has ranked as among the best-selling luxury vehicles in the United States. The RX is the only Lexus vehicle to be produced within as well as outside Japan, with North American market RX 350s being made at the Cambridge plant in Canada.
The Lexus RX first premiered in 1997 as a Lexus concept, followed by the debut of the production RX 300 model at the 1998 North American International Auto Show. In 2003, the second generation RX debuted in the U.S., and the redesigned RX 330 went on sale shortly after. Equivalent versions of the first and second generation models were sold in Japan under the Toyota Harrier nameplate until 2008. In 2006, the RX line added the world's first luxury hybrid, the RX 400h. The redesigned third generation RX 350 went on sale in early 2009, followed later that year by the second generation Lexus RX hybrid, the RX 450h.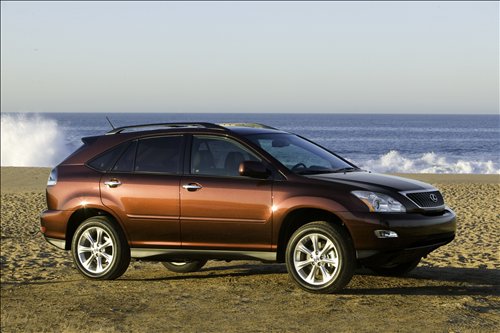 The redesigned RX 350 features a revised 3.5-liter 2GR-FE V6 engine producing 275 horsepower (205 kW) with a wider power curve, it remains ULEV-II certified and now uses a six-speed automatic transmission with sequential shift. A double wishbone rear suspension setup replaces the previous MacPherson strut design for improved handling and greater cargo space, while an optional Sports Package adds a performance-tuned suspension. Both non-hybrid and hybrid models continue in either front or all-wheel drive configurations, with the all-wheel drive system gaining Active Torque Control for greater efficiency, and all models are built off the new midsize flexible K-platform. American RX 350 sales began in February 2009 as a 2010 model.